INSPIRATIONAL T-SHIRT COMPANY KERUSSO®
RANKED TOP 3 BEST-SELLING LINE NATIONWIDE
Kerusso® Announced on Prestigious Giftbeat Chart as Top 3 T-Shirt Company
Berryville, AR – September 2021
Kerusso®, maker of the Top-Selling Faith-Based Apparel and Accessories, has been recognized by Giftbeat (reported from retailers) as the No. 3 T-shirt company nationwide.
The announcement comes in the September 2021 issue of Giftbeat, the trade publication that tracks sales and pulse of the gift industry.
Kerusso's founder and CEO, Vic Kennett, is grateful for this recognition from retail partners across the country: "When retailers thrive, we thrive. Brick and mortar retail partnerships drive our success and hitting number 3 for T-shirts in Giftbeat really means something to us, because this chart is based on responses from retail owner/operators in the field. When your top stakeholders offer this kind of recognition, you take notice. We're grateful for their patronage and consider this achievement a shared success."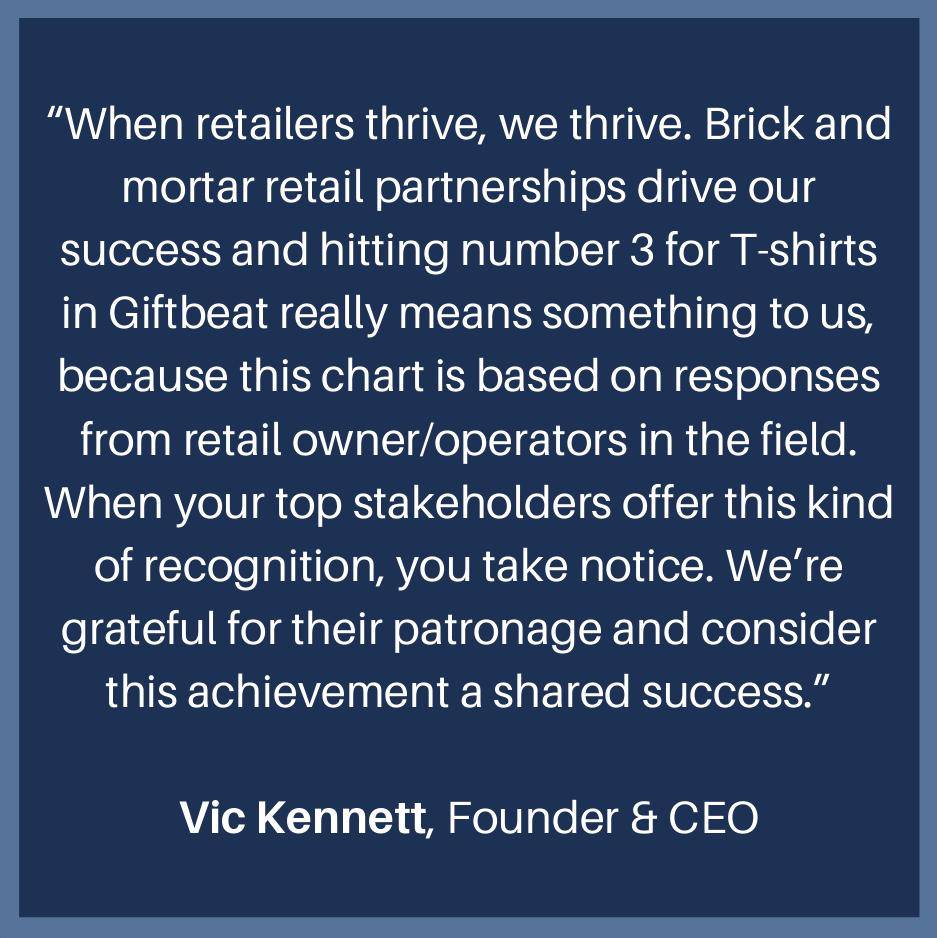 Kennett continues, "It makes sense that Christian-themed T-shirts are making their mark. People are looking for meaning in the products they purchase, even more so amid the challenges so many of us have faced the last two years. Sales of Christian inspirational products are up across the board, and all of our products – apparel, accessories, and gifts – fall into this category."
Giftbeat is the leading trade publication of the gift industry and utilizes a large network of reporting stores around the country. Stores complete a monthly questionnaire asking them to rank their three top-selling items in eight rotating categories. Stores are then asked to report their top three lines in respective categories. Visit giftbeat.com.
Kerusso® designs and prints original T-shirts featuring faith-based themes under their namesake brand, as well as popular brands including Cherished Girl®, HOLD FAST®, grace & truth®, Kerusso® Kidz, Faith Gear®, and Paws & Pray®.
U.S.-based Kerusso® is a Christian apparel company out of Berryville, Arkansas, which employs around 150 people and is among the top employers in the area. The company was established with a small family loan in 1987 and has expanded into a leading supplier of Christian T-shirts and other apparel nationwide. Kerusso operates with the mission to proclaim the Word of God through products about Jesus Christ and the Christian message. The Greek word kerusso means "to herald or proclaim." For almost 35 years, Kerusso has proclaimed the message of Jesus Christ through Christian T-shirts, accessories, and gifts.