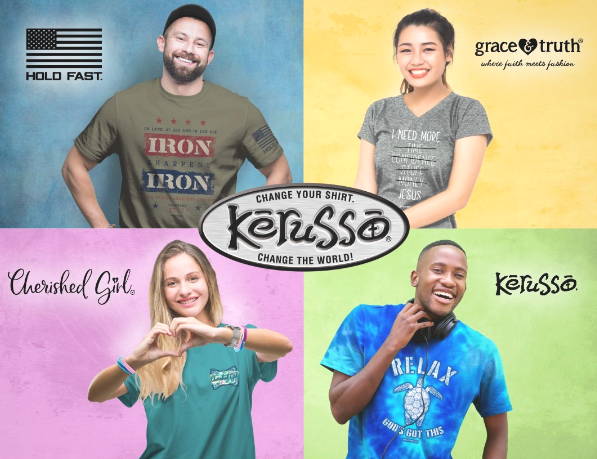 Get to Know the Kerusso® Family of Brands
At this moment in history, people are seeking meaning. In the midst of chaos, frustration, disappointment, and outright fear — the world needs hope. Now is the time to offer encouraging messages of faith, hope, and love through the products you carry.
For 33 years, Kerusso has offered original inspirational apparel, accessories, and gifts that share the Good News of Jesus Christ. Right now, the hope-filled messages we offer are resonating with people of all ages.
Read on to learn more about the original lifestyle brands we design.
Right now, believers of all ages are reconnecting with their faith. They're excited to start, and be part of, conversations about Jesus. Sharing is caring, and our flagship brand Kerusso offers classic unisex T-shirts the whole family will love to wear.
Younger believers from babies to toddlers to big kids love our Kerusso® Kidz collection, characterized by fun colors and themes that speak to their growing love for the Lord.
These whimsical Christian designs are hand-drawn & lettered for the woman who wants her casual wardrobe to say something. She embraces her faith, and loves to wear her heart on her sleeve. This top-selling line features a large design on the back, and diminutive branded design on the front left chest. This popular brand has helped us land at #6 nationally on GiftBeat Top 10 T-shirt List, #3 in the South.
Men of God can share a message of strength and courage through faith in our rugged Hold Fast collection. This guy knows what he stands for, and isn't afraid to show it. He has faith in God, in his country, and in his family. Our newest brand, HOLD FAST has taken the nation by storm!
Fashionable grace & truth T-shirts bring feature stylish cuts, colors, and designs for the woman who wants to express herself, and look good doing it. She wants a flattering top that looks chic with her favorite jeans, or under a jacket for work. Faith meets fashion in this contemporary, high style collection.
Reach Out to Your
Customer Care Partner or Field Rep Today